Man attacked with machete in Virginia Water car park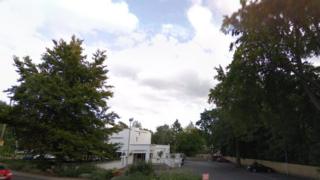 A man has been attacked with a machete during a "large scale disturbance" in a Surrey car park on Saturday.
Police believe three men who knew each other were involved in the clash near the Piccolino restaurant in London Road, Virgina Water, at 17:00 BST.
One man fled the scene and is believed to have stopped a number of cars to try to get away.
A 46-year-old man and a 25-year-old man have been arrested and remain in police custody.
Two men are believed to have caused damage to a vehicle using metal poles.
A third man is then thought to have attacked one of the others with a machete, causing a significant hand injury which required surgery.
He then fled the scene, and is believed to have stopped a number of cars, including a red Ferrari.
Det Sgt Andy Jenkins, who is leading the investigation, said: "There would have been a lot of people around and we are really keen to speak to anyone who witnessed any of the events so we can build a clear picture of what has taken place.
"We would especially like to talk to the drivers of the cars the third man has stopped."