Guildford Cathedral 'saved' by £6.9m appeal donations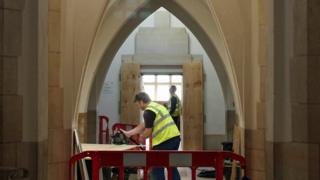 An asbestos-hit cathedral which was "at serious risk of closure" has been saved after a £7m fundraising appeal.
Guildford Cathedral, which featured in 1976 horror smash The Omen, was under-threat due to the cost of removing plaster containing the deadly material from the ceiling.
The Very Reverend Dianna Gwilliams said the money was raised by more than 4,000 people and organisations.
Repair work began earlier this month and is expected to finish next summer.
The Heritage Lottery Fund provided £4.6m in 2015.
Dean Gwilliams said a "sponsor a pipe" fund to renovate the organ caught people's imagination, with a "significant number" sponsored on behalf of children who would "grow up knowing they have contributed to the future of our inspirational building".
The Cathedral said funds would cover the removal of plaster from ceiling vaults, an oral history project, digitising its archive and new lighting and sound systems.
Although the appeal closed at Easter, a cathedral spokeswoman said future fundraising would help maintain the grade II listed building's heating and lighting, repoint weather-worn brickwork and repair external paths.
The cathedral, which attracts 100,000 visitors a year, plans an open day on 14 May.