Inquiry into 'dire' £8.4m debts at Royal Surrey hospital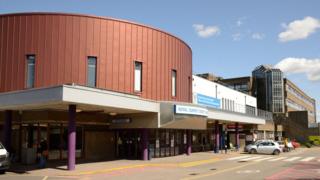 An investigation has started into £8.4m debts at Royal Surrey County Hospital in Guildford.
Regulator NHS Improvement said it was looking into why the NHS foundation trust's finances "deteriorated at such pace".
It said the trust "needs help" to "rebalance its finances".
Recent board papers refer to Royal Surrey's "dire financial performance" partly due to increased use of agency staff.
Staff shortage
Its chief executive Peter Dunt said: "The shortage of qualified nurses and doctors has led to an increased reliance on expensive agency workers."
Royal Surrey said it welcomed the "further support and assistance" and had appointed a "turnaround director" to return the organisation to "financial surplus".
Last month a planned merger with Ashford & St Peter hospitals was "paused" to allow "immediate financial difficulties" to be resolved.
NHS Improvement said following its first meeting in Guildford on Wednesday it expected a "fairly quick investigation" of a few months.
It would then decide whether to take regulatory action.