Leatherhead boarding school teacher banned for encouraging cheating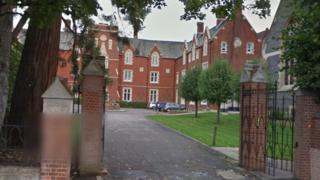 A senior teacher at a private school has been banned for at least three years for encouraging students to cheat and then lie about it on his behalf.
Mark Lotsu, Head of Biology at St John's School in Leatherhead, admitted he gave "improper assistance" to A and AS Level students in March 2015.
When the £9,650-a-term boarding school investigated, he also persuaded pupils to lie about the help they received.
Mr Lotsu claimed he was under pressure to achieve better results.
However, a written decision by the National College for Teaching and Leadership said such pressure "was normal across the education sector [and] in no way a justification for his actions".
The panel found the allegations, which Mr Lotsu admitted to, amounted to unacceptable professional conduct and conduct which might bring the profession into disrepute.
Photocopied pages
Mr Lotsu helped pupils to cheat in their biology Investigative Skills Assignment in March 2015.
He provided them with some answers and revision sheets and allowed those who scored badly to rewrite work on to photocopied pages which were then stapled to their original papers.
The ruling stated: "The panel was satisfied that Mr Lotsu's conduct in dishonestly interfering with national examinations and asking pupils to lie on his behalf was misconduct of a serious nature, falling significantly short of the standard of behaviour expected of a teacher."
Mr Lotsu told the panel: "Through my dishonesty, I did in fact potentially end up doing more damage to [the pupils'] future chances than good. This is something that will always remain with me."
The panel recommended the ban from teaching is reviewed in two years, but Jayne Millions, from the Department for Education, struck him off "indefinitely" and this cannot be reviewed for three years.