Guildford centre pedestrian deaths prompt £2m safety pledge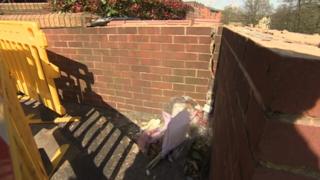 More than £2m has been pledged for road safety improvements after two pedestrians were killed in Guildford town centre.
A Land Rover Defender mounted the kerb on Bridge Street in February, hitting shoppers.
Guildford Borough Council said work on a new pedestrian bridge, linking the station to the town centre would start in autumn 2017.
It has produced a transport strategy and met to hear a safety petition.
More than 11,000 people put their name to calls for iron railings, a 20 mph speed limit, speed cameras and pavement changes.
Councillor Matt Furniss said: "The new Walnut Bridge will be a wider structure and, together with potential improvements to Bedford Walk, will provide a safer route for pedestrians and cyclists, avoiding Bridge Street."
'Utterly devastated'
The meeting heard a statement from Lorraine Moody, partner of one of those killed, Del Kendall.
"My partner Del was on his way to see me on the afternoon of the accident on Bridge Street. He sustained multiple injuries and was placed in an induced coma for 11 long days until his injuries were too much for him to survive," Ms Moody said.
"We then had to make the awful decision to allow Del to have a peaceful passing. As you can imagine, myself and Del's family have been left utterly devastated at the loss of our loved one, aged just 45.
"I seriously hope for the sake of residents and businesses that you take immediate action and put these suggestions into action as soon as possible."