Villagers 'devastated' by revised greenbelt housing plan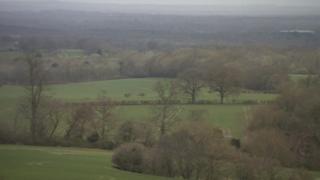 Plans for more than 1,000 homes on greenbelt land in Surrey have left villagers "devastated", according to a parish council.
A draft local plan by Guildford Borough Council envisages almost 700 new houses every year for 20 years.
The borough would lose 1.6% of greenbelt land including the village of Normandy near the A31 Hog's Back.
Parish Council chairman Alan Cheesman said he would oppose a "concrete jungle overtaking our precious village".
"I, like most of the villagers, am devastated," he said. "The flora and fauna on land identified for development is vast and has many rare species, plants, animals and insects - irreplaceable."
Guildford Borough Council said brownfield sites would be developed first but some greenbelt land would be needed.
Changes to the plan include fewer development sites, new locations for three secondary schools and more consideration of flood risk and traffic.
Environment councillor Matt Furniss said: "In the previous draft (of the local plan) we had 20,000 responses. We have listened to every single one of those and given an answer. This is much more sustainable."
Guildford Greenbelt Group Councillor David Reeve said: "If you look at 1.6% across green areas of the country as a whole, that would be enormous.
"The National Gallery has a large number of paintings in it, no-one would even dream of dispensing with 1.6% of those by putting a knife through them."