Clandon Park fire: Porcelain rabbit discovered among ashes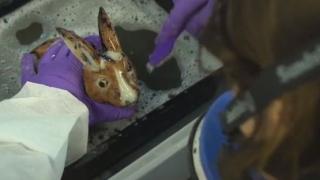 An 18th century Chinese porcelain rabbit has been found intact among the ash and debris of a fire-ravaged mansion.
The National Trust said it was among precious items still being discovered after the devastating blaze at Clandon Park House last April.
The rabbit figure has since been cleaned and restored.
The Trust said work would continue into the summer to rescue more objects and make the building safe.
The artefact had been in a display cabinet on the first floor prior to the fire.
The Trust's project curator, Sophie Chesham, said it had been on "an amazing journey through the building", tumbling through a collapsing floor and ceiling.
She added other objects were "in an outstanding condition with no scratches on them".
About 95% of the Grade I listed house near Guildford was damaged.
The Trust plans to restore some ground floor rooms and use upper floors for exhibitions and events.
Pieces of broken items, such as glass chandeliers, are being collected to be reassembled for display.
The 8th Earl of Onslow, whose family bequeathed the Palladian mansion to the Trust in 1956, has said it should remain a ruin.
The Trust said it had looked at a number of options to ensure Clandon Park remained open and accessible to the public.
A spokesman said the cost of the work was expected to be met largely through its insurance policy, although it would also be asking supporters for donations.