Cat shootings in Guildford area 'sadistic': Charity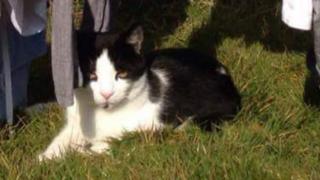 At least six cats have been shot and injured in the Guildford area of Surrey, an animal charity has said.
People for the Ethical Treatment of Animals (Peta) condemned the shootings as "sadistic and violent acts" and offered a £2,000 reward for information leading to a conviction.
Surrey Police said cats had been shot with an air rifle, causing a "great deal of upset and distress".
It follows animal killings in south-west London, blamed on one person.
A five-year-old cat in Cranleigh, called Ruby, was shot in the spine and had to be put down.
Her owner Kara Salvador said the culprits were "very sick and twisted".
"What goes through their heads, I don't know. God forbid next time, it could be a child."
Another cat in Cranleigh, Coco, survived but lost her eye.
History of cruelty
Peta associate director Elisa Allen said: "Animal abusers are a danger to everyone."
The charity said it was "vital crimes against animals are taken seriously" and warned serial rapists and murderers, including Ian Huntley, Fred West and Dennis Nilsen, routinely had histories of animal cruelty.
Last month a seven-month-old kitten, Oreo, was found decapitated in her owner's garden in Frimley Green.
Anne Brummer, of the Save Me Trust animal welfare charity, said: "Someone is actually seeking out the animal, taking it away from its home normally [in the] late evening, then returning it after they have tortured it."
Police took Oreo's body so a vet could test for similarities to a series of cat deaths in south-west London, which have been blamed on a single killer.