First South East female bishop to serve Guildford Diocese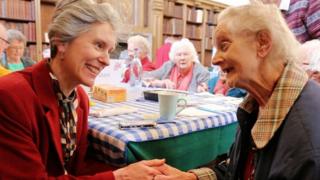 The new Bishop of Dorking has been named as the Reverend Canon Dr Jo Bailey Wells, making her the first female bishop in the South East.
Dr Wells replaces the Right Reverend Ian Brackley, who retired in the autumn of 2015 after 19 years in the role.
She washed the feet of two pupils during an Easter service at school in Guildford shortly after her appointment was announced.
Dr Wells is expected to begin her new role in August.
Archbishop of Canterbury Justin Welby described her as a gifted scholar and pastor and a "huge blessing" to Lambeth Palace, where she worked as a chaplain for three years.
"All at Lambeth Palace will miss Jo greatly, but we know that the Diocese of Guildford will be blessed richly by her ministry as a bishop," said the archbishop.
'Honoured and humbled'
Dr Wells is 50 and married to the Reverend Dr Sam Wells, vicar of St Martin-in-the-Fields, central London. They have two children.
She said she was "honoured and humbled" to serve the Diocese of Guildford.
"I shall look forward to opportunities for this around the diocese - particularly with young people through its many thriving schools and colleges."
The Diocese of Guildford, which covers most of Surrey and north-east Hampshire and one church in West Sussex, was formed out of Hampshire's Winchester Diocese in 1927.
Andrew Watson, the Bishop of Guildford, said he was delighted Dr Wells had accepted the invitation to become the new Bishop of Dorking.
"Jo's abilities, both academic and pastoral, were discerned at an early age, and the depth of her faith, the richness of her experience and her global outlook will be huge assets to us all."