Dunsfold houses: Review highlights road safety concerns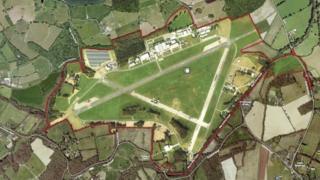 Up to 1,800 planned new homes at Dunsfold Aerodrome would cause major road safety issues on nearby roads, according to a traffic review.
The parish council-commissioned report predicts a "severe impact" on capacity, congestion and safety around the site.
Dunsfold applied last December to develop its aerodrome. If permission is granted, flying would come to an end.
Its planning documents suggest the impact of extra traffic would mainly be "minor negative" or "negligible".
'New village'
A 38-page report by Vision Transport Planning forecasts delays on the A281 and warns many construction lorries would use "narrow country lanes".
It was commissioned by 11 parish councils in the Guildford, Waverley, Horsham and Chichester areas.
It concludes the development is in the wrong location and fails to meet national, regional and local planning policies.
Dunsfold declined to comment but said the issues were covered in its application documents to build "a new Surrey village".
Waverley Borough Council is consulting on the application and waiting for responses from the Environment Agency and Surrey County Council. It expects to make a decision in June.