Surrey Police staff face action after John Lowe murder conviction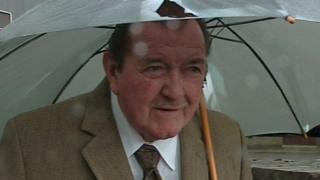 Two police staff may face criminal action over a police decision to return shotguns to a man who later murdered his partner and her daughter.
The Independent Police Complaints Commission has referred two civilians working for Surrey Police to crown prosecutors following an investigation.
The guns were seized when police probed claims that John Lowe had threatened to use them, but they were later returned.
Lowe was later convicted of murdering Christine Lee and her daughter, Lucy.
'Gross-misconduct notices'
The IPCC said in a statement that two serving members of Surrey Police civilian staff had been referred to the Crown Prosecution Service to consider potential charges.
Both had been served gross-misconduct notices and interviewed under caution in relation to potential misconduct in public office.
No action was recommended against a third person interviewed by IPCC officials, who has since retired.
Mrs Lee, 66, and her 40-year-old daughter were found shot dead at Lowe's puppy-breeding farm near Farnham, Surrey, in February 2014.
Lowe, now 84, was convicted of their murder eight months later.
During his trial at Guildford Crown Court, it emerged that police had previously confiscated a number of licensed shotguns belonging to Lowe after Mrs Lee's other daughter, Stacy Banner, told police Lowe had threatened to "blow her head off".
The IPCC said: "The allegations were later withdrawn and subsequently in July 2013 a decision was taken to return the firearms to him.
"In February 2014 Mr Lowe shot and killed Christine and Lucy Lee."
Surrey Police, which commissioned two independent reports that criticised its actions, later apologised to Ms Banner, who said after the trial: "John Lowe pulled the trigger but it was Surrey Police that put the gun in his hand."