Royal Surrey County Hospital and Ashford & St Peter's 'pause' merger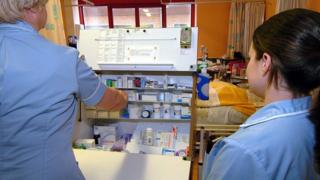 The planned merger of two hospital trusts has been put on hold in a "joint decision" for financial reasons.
In a statement, the Royal Surrey County Hospital and Ashford & St Peter's spoke of "significant" pressures on the NHS.
The boards said both trusts needed to work "on their own individual areas of challenge".
But the "deteriorating" financial position at Royal Surrey was a "significant factor" which had been taken into account, they said.
The statement said: "Both boards still believe that creating a bigger, stronger organisation is one of the best ways to secure and protect high quality services for patients.
"During this pause, we will continue to pursue those areas where it is sensible to look for savings and better ways of working together."
'Open and transparent'
Royal Surrey chairman John Denning said it was not a decision the boards had taken lightly but that resolving their "immediate financial difficulties" was the priority in order to create a "solid foundation" for success.
Aileen McLeish, chairman of Ashford & St Peter's Hospitals, said: "Current predictions mean that the merger plans - as they are currently described - may not be able to realise the anticipated financial benefits - and hence benefits to patients - needed to make the merger viable."
Kate Scribbins, chief executive of Healthwatch Surrey, urged the trusts to "continue to be open and transparent with the public" about the merger process.
"We would also urge the trusts to continue to ensure that patients, their families and carers remain at the heart of their plans and decisions going forward," she added.