Tributes to Weybridge 'pothole death' cyclist Ralph Brazier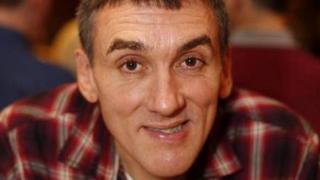 A cyclist who is thought to have fallen off his bike and died after riding over a pothole has been described as a "devoted father and loving husband".
Ralph Brazier, 52, of Thames Ditton, suffered fatal injuries when he fell on Weybridge Road at the junction of Weystone Road, Weybridge on Tuesday.
He was taken to St Peter's Hospital, Chertsey, Surrey but died later.
Surrey Police and the Health and Safety Executive (HSE) are investigating the circumstances of his death.
Mr Brazier's wife Karen, said the father-of-three would be "very much missed".
'Pothole cycling danger'
"He was an inspiration to all those who knew him and raised thousands of pounds for children's and cancer charities through sponsored cycling events," she added.
Roger Geffen, of national cycling charity CTC, said potholes were particularly dangerous to cyclists.
"This isn't the first time we've heard of cyclists being killed by potholes.
"We had very loyal CTC volunteer killed by a pothole, there was a story a few years back of a soldier who came back from Afghanistan only to be killed when his bike went into a pothole.
"About 10 to 15% of the injury claims dealt with by CTC solicitors on behalf of our 68,000 members are due to poor maintenance defects."