Guildford cabbies may launch legal challenge over teal taxis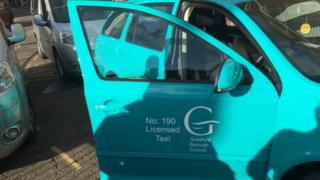 Taxi drivers are considering taking legal action over a council's decision to force them to change the colour of cars.
Guildford Borough Council said the teal colour would make it easier for passengers to identify licensed cabs.
Cabbies will also have to take a professional qualification to safeguard children and vulnerable adults.
The Guildford Hackney Association described the change as "costly and unnecessary".
The first teal taxis are now operating in Guildford but drivers have until the end of next year to comply with the new regulations.
'Pass on cost'
The council has agreed to pay 25% of the cost of getting vehicles "wrapped" in the new colour until July.
Mark Rostron, secretary of the association, said he felt "confident" the matter could be taken to a judicial review.
"Guildford council wants us to spend £1,500 to £2,000 per taxi to livery our cars and that cost is sooner or later going to get passed on to taxi users in the form of higher fares."
Councillor Graham Ellwood said the council wanted taxis and private hire vehicles to be easily identifiable for vulnerable people, including those leaving nightclubs.
"We want to be absolutely sure they get into a cab that is clearly identifiable and driven by someone who is now going to do extra qualifications," he said.