Compton village campaigners fight for 'vital' bus service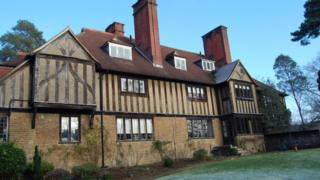 Campaigners are urging Surrey County Council to think again about cutting a "vital" bus service to a top tourist attraction.
The number 46 currently serves Compton village, between Guildford and Godalming, home to the Watts Gallery.
The council is considering saving money by reducing or withdrawing about 30 bus services, including the number 46.
Ken Miller of Compton village said the cost to local businesses would outweigh the council's "modest" savings.
The county's proposed changes include the 520 between Aldershot and Guildford and the 523 from Milford old hospital to Godalming and Guildford.
The 46 between Aldershot and Guildford would have a new route, missing out Shackleford, Hurtmore, Charterhouse, Sunnydown and Compton.
'Value for money'
Ken Miller, of the Compton Village Association told BBC Surrey: "The bus service is vital to our village and the key businesses in the village, in particular Watts Gallery which is dependent on this for staff, volunteers and visitors.
"It is up to [the council] to provide public transport to important tourist attractions and the gallery is just that, it's one of the top attractions in the Guildford area."
He said he understood it was "very tough" for councillors but urged them to think again.
A council spokesman said its aim was to provide services that offered "maximum value for money".
It said "increasing demand for essential services, coupled with reduced government funding" meant it needed to review what it spent.
"We have worked hard with bus operators to negotiate revised contracts... but further savings still need to be made," it said.
The consultation runs until 14 March and people can have their say on the proposals.