Deepcut soldier denies having sex with Cheryl James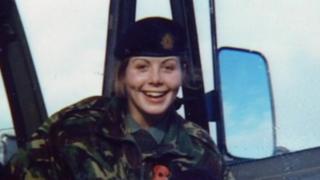 A soldier has denied having sex with an 18-year-old female private found shot dead at Deepcut barracks.
Ian Atkinson told an inquest into Pte Cheryl James's death they had only ever "kissed - that was it" and this happened on just one occasion.
The hearing has been told Sgt Andrew Gavaghan ordered her to go into a room with her fellow Private to have sex the night before she died.
Mr Atkinson told Woking Coroner's Court it was a "drunken kiss".
"It never went any further," he said. "It was just a kiss. It was a week or two before the death of Cheryl.
"We had been down the Naafi, down the bar. We had a drink and all that but it never went any further."
Pte James, 18, of Llangollen, one of four recruits to die at the Army training camp in Surrey over a seven-year period, was found shot dead at the barracks in 1995.
Who were the Deepcut four? Background to the deaths and timeline of events
Mr Atkinson said he was shocked when he heard about allegations made by former soldier Mark Beards during preparations for the inquest.
"I do not know why he would do that or what he was thinking," he said.
He said he and Mr Beards, who left the Army in 1996, "were not best friends by any means".
Mr Atkinson described Pte James as a "quiet girl, quite keen to get on".
He said he had heard she was seeing someone from a different barracks and she had slept with another Deepcut soldier, Pte Paul Wilkinson.
An electrician who worked at Deepcut said Pte James had joked about putting a gun to her head.
Keith Grieg said she and some female colleagues had spoken of wanting to leave the Army but not being able to buy themselves out.
"Cheryl then said to me that the only way to get out was to put a gun to your head. However, that was said in jest," he said in a written statement to the inquest.
He said "everyone laughed" at the comment.
The inquest was told a lance corporal was "physically sick" when he found Pte James's body in some bushes.
Stephen Kerr told the hearing in a statement: "I heard that he was physically sick actually on her body because he was so shocked."
The hearing continues.