Flagstone theft at National Trust's Polesden Lacey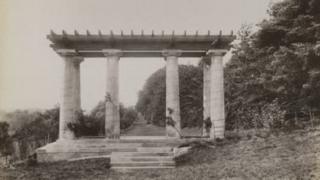 Historic flagstones have been stolen from a 19th Century stately home.
The National Trust, which owns Polesden Lacey, near Dorking, is in talks with insurers and Surrey Police about the cost of the damage and whether the stones can be recovered.
Staff said the thieves "smashed through locked gates" and drove a truck into the estate to take the stones.
The charity said extensive work had been carried out on security there and it took security very seriously.
Countryside manager Tony Gregory said the area was part of the Grade II-listed terraced "long walk" at the house where the Queen Mother and King George VI honeymooned in 1923.
"Undoubtedly the late Queen Mother walked down that terrace," he said.
He added: "Many people, not just the Queen Mother, but many people have enjoyed that view and enjoyed that walk and so it's disappointing."
He said about 25 heavy flagstones measuring two feet (0.6m) by a foot (0.3m) were taken by the intruders and he said it would have taken two or three hours, in the early hours of Saturday.
The National Trust describes Polesden Lacey as an Edwardian country retreat but spokeswoman Camilla Morgan said it was built by the author and playwright Richard Sheridan in 1804 and the long walk was designed as part of his tenure.
She said it was believed the thieves used a crowbar to gain entry, but were startled when the mansion's house alarm went off because they left some stones behind.
"The stones are part of the historic features so will definitely repair it in some way," she said.
"The best case scenario is police will be able to solve it and it would be ideal if we could have the original stones back.
"Failing that we will do it the best way we can."