Headley Court: Water contamination delays rehabilitation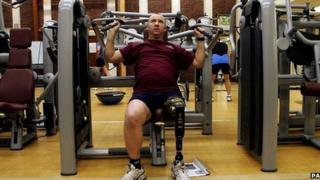 Wounded servicemen and women are being forced to wait for specialist treatment because of water contamination at the UK's national rehabilitation centre.
Staff and patients at Headley Court were told the water was unsafe to drink or to use to brush their teeth after bacteria were discovered in September.
A few seriously injured personnel have been turned away from the complex, near Epsom, until it is given the all-clear.
The Ministry of Defence said remedial work by contractors was under way.
The MoD said in a statement: "Due to the nature of the bacteria and the current patient demographic, the risks are low. The vast majority of patients and staff can shower or wash as normal.
"They have been advised not to drink the tap water or brush their teeth with it."
Without heating
Those with open wounds have been told they must use waterproof dressings when showering to avoid the risk of infection.
The contamination is within the complex and not from external water supplies, the MoD said.
A broken boiler has left up to 20% of the centre without heating, and a leak has also been discovered in part of the roof.
A spokesman for Headley Court said: "We have delayed the admission of four individuals who are due to come here. They will be admitted when it is all clear."
A Help for Heroes spokesman said: "Not having basics, such as heating in winter and safe water to drink, seems like a step back in our country's treatment of our injured and ill servicemen and women."
Headley Court which caters for around 100 patients - most with non-life-threatening injuries is due to be replaced by a new national rehabilitation centre in Leicestershire in 2018.