Guildford High Street £1m cobble repair work begins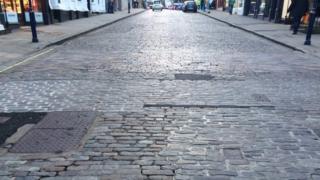 Work to replace about 60,000 "iconic" granite cobbles in Guildford, Surrey, has begun at a cost of £1m.
Specialist contractors started digging up the road in Guildford High Street on Wednesday.
Stone masons are expected to have finished repairing and relaying the stone "setts" by 30 June.
The cobbles in Guildford High Street were first laid in 1864 but have deteriorated in recent years.
The final stage of the 2012 Tour of Britain cycle race was decided on the stones.
'Damage accumulated'
Doug Scott, chairman of The Guildford Society's design and heritage group, said the cost of the original granite setts was £11,000, which was paid for by public subscription.
He said: "Since then it has been a battle to keep them in good condition.
"The damage has just accumulated until we've got to the point where something had to be done."
The cost of the repair work is being shared between Surrey County Council and Guildford Borough Council.
A spokesman for the county council said Guildford High Street would be split into sections of work to "minimise disruption and give a better finish to the stones".