Cheryl James Deepcut inquest will not hear sexual abuse culture claim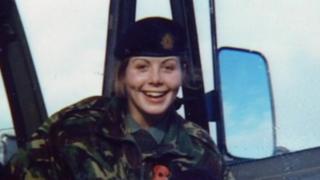 Claims of a culture of sexual abuse at Deepcut Barracks will not be considered at the inquest into the death of a teenage recruit, a coroner has ruled.
Pte Cheryl James, 18, from Llangollen, Denbighshire, was found with a bullet wound to her head in November 1995.
She was one of four soldiers who died at the Surrey barracks between 1995 and 2002 amid claims of bullying and abuse.
Coroner Brian Barker QC said the focus of the inquest at Woking Coroner's Court would be Pte James' mental state.
Pte James's father Des is expected to be the first witness when the hearing resumes on Thursday, after interested parties have had a chance to review new forensic and scientific evidence.
Mr Barker said he would focus on Pte James' state of mind on the day she died "on the basis of evidence, not supposition" but he would also "keep his ruling under review".
'Fearless investigation'
He refused a request from Alison Foster QC, who is representing the family, to look at allegations of a culture of abuse at the base and the sexually inappropriate treatment of young females within the chain of command.
But he told the hearing he would explore "the impact of any sexual abuse against Cheryl on her state of mind".
He said the inquest was "not a public inquiry" but it would be "a full, frank and fearless investigation into Cheryl's death".
"I have a wide discretion as to scope and my inquiry may stretch wider... for the purposes of my conclusion."
Mr Barker's announcement was welcomed by human-rights organisation Liberty, which is representing the family.
Lawyer Emma Norton said they were "very relieved that any allegations of sexual abuse involving Cheryl are going to be properly investigated" and reassured the coroner would be keeping an open mind as the inquest progressed.
Earlier, Mr Barker said the scope of the inquest was "pre-determined".
He said it would include the method of Pte James's death, when and where she died, who discovered the body, what happened on the evening before she died, who saw her before she died, whether there was any third party involvement in the death, and her state of mind when she died.
When Ms Foster asked him to look at whether Pte James was subject to sexual abuse and whether there was a wider culture of sexual abuse, he said: "Only the first of these requests will be looked at - the impact of any sexual abuse against Cheryl on her state of mind."
Mr Barker said whether Pte James had any consensual or non-consensual sex in the lead-up to her death already fell within the scope of the inquest.
He said the inquest would also look at any shortcomings in policy on sexual behaviour, supervision of young females, drugs, alcohol and accommodation.
In 2014, the High Court quashed the original 1995 inquest, which recorded an open verdict.
The inquest is expected to last seven weeks and hear evidence from more than 100 people.
Who were Deepcut four? Background to the deaths and timeline of events
'Alarm bells'
Ahead of the inquest, Mr James, of Llanymynech, Powys, said: "There's no wrong verdict for me in this.
"As long as the process is impeccable, as long as I can look back and say everything we could do, we've done, that's the important thing."
Mr James said when the army told him in 1995 that his daughter had killed herself, he initially accepted its version of events because he was brought up to believe organisations like the armed services "were on your side".
"I suppose the alarm bells should have started to ring when the inquest was held after just three weeks," he said.
'Escape scrutiny'
Mr James told BBC home affairs correspondent June Kelly his 20-year fight for justice was no longer just about his daughter but for parents up and down the country who "place recruits in the care of the state".
"It's not good enough, I believe, for the MoD today to say, 'Well it's all in the past and it's all been fixed and we have a policy of zero tolerance'.
"You can't just use soundbites and these assurances to escape the scrutiny that should have taken place around that camp."
Mr James told the Daily Telegraph at least 10 witnesses claim they were sexually exploited or ordered to have sex with soldiers.
In January, Ms Foster told a pre-inquest hearing there was material suggesting she may have been "sexually coerced or raped" hours before she died.
Last summer, the recruit's remains were exhumed and a fresh post-mortem examination was carried out, leading to the recovery of metallic fragments that have been analysed by a ballistics expert.
The family had repeatedly called for an exhumation in the hope of resolving a dispute over the ballistics evidence.
Pte James was one of four soldiers found dead at Deepcut, Camberley, between 1995 and 2002.
Ptes Sean Benton, James Collinson and Geoff Gray also died after sustaining bullet wounds.
June Kelly, BBC home affairs correspondent
This new inquest is the culmination of a battle by Cheryl James's parents, Doreen and Des, to find out about events on and before the November morning when their teenage daughter was found dead.
Together with the families of the other soldiers who died at Deepcut, Mr and Mrs James campaigned for a public inquiry. The families didn't succeed with that and so their lawyers began looking at the possibility of fresh inquests.
Pte James's parents who, like two of the other families, are represented by lawyers from the human rights organisation Liberty, were the first to be granted a new inquest.
This was after Liberty had gained access to the material held by Surrey Police: 44 volumes of statements, documents, notes and photographs. Now, for the first time, this will come under detailed scrutiny in a public forum.