Traffic light 'mistakes' caused Godstone A22 gridlock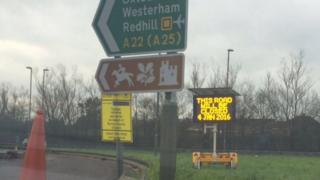 Gridlock suffered by motorists when a trunk road was shut for repairs was caused by traffic management mistakes, Surrey County Council has admitted.
Drivers complained it took an hour to travel one mile on the Caterham bypass when the A22 was shut at Godstone on 4 January.
Councillor John Furey said it was a mistake to use automatic traffic lights instead of manually-operated ones.
He said delays had now been reduced by introducing manual lights.
Traffic is being diverted through Godstone village while the southbound carriageway of the A22 is closed from the M25 junction six for repairs and drainage work.
Delays still likely
Drivers and businesses said the road closure, intended to last four to six weeks, had caused unacceptable traffic gridlock in Caterham, Tandridge and Godstone.
"Where we fell down was not being there manually, controlling the traffic lights," said Mr Furey.
"We were wrong, we made a mistake - automatic signals never can react to a build-up that is getting out of hand."
The council said it was now using manually operated lights during peak hours, but long delays were still likely and drivers should use alternative routes where possible and drivers should use alternative routes where possible.
Mr Furey said the roadworks were ahead of schedule because of good weather and running day and night shifts for workmen.
"We are going to finish at least two weeks in advance of our scheduling," he said.
"The finish date will be in seven to 10 days' time."