Closure of Kingswood L&G site 'would impact on economy'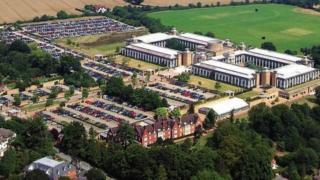 The closure of Legal & General's offices in Surrey will "rip a £21m black hole" in the local economy, an independent report has claimed.
The union Unite is campaigning to save about 1,500 jobs at the Kingswood site, which is due to close in 2018, with a phased closure beginning this spring.
The report was commissioned by Unite, which plans to lobby Reigate MP Crispin Blunt in his constituency on Friday.
Legal & General said most jobs were being transferred to Hove and Cardiff.
In a statement, it said employees would be able to "follow their roles".
"To help facilitate this, Unite and Legal & General have agreed relocation and travel packages.
"If Kingswood employees are unable to move, or be redeployed, Unite and Legal & General have agreed severance terms," it said.
Unite said its "local impact assessment" report, conducted by CLES Consulting, analysed the cost of closing the Kingswood site in terms of lost wages, the knock-on impact to local business and an increase in welfare support for those made redundant.
Its members have voted for industrial action in opposition to the offer of relocation.
The closure of the site near Tadworth was announced last August, with a date originally set for 2017.
However, the company has now put this back to summer 2018.
Simon Burke, group commercial director, said the Kingswood building was its "least adaptable building to changing business demands".
"Closing it is not an easy decision to make, but it is the correct one for Legal & General and our customers."
Ian Methven, Unite regional officer, said closing Kingswood was a "nonsensical decision" and the campaign to save jobs would continue.