Dubai ruler fails to stop new homes in Chertsey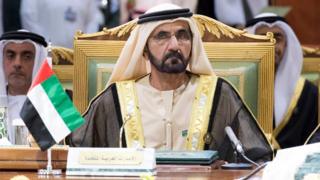 A company owned by the monarch of Dubai has failed to prevent 200 new homes being built near his Surrey estate.
Smech Properties, owned by Sheikh Mohammed bin Rashid al-Maktoum, wanted to stop the development in Chertsey.
Sheikh Mohammed, who is also vice president and prime minister of the United Arab Emirates, owns the nearby Longcross Estate.
Runnymede council said it was happy with the outcome but disappointed the development was delayed over a year.
Employment and housing
Crest Nicholson was granted permission for the "new village" including shops, restaurants and leisure facilities, on the green belt site at Chobham Lane in 2014.
Smech was refused permission for a judicial review of the planning consent in March 2015.
Now the Court of Appeal has rejected a further appeal.
The council said the development, on former Defence Evaluation and Research Agency (DERA) land, would bring employment and housing to the borough.
"It is the hope of the council that the developer will progress with the development quickly," it said in a statement.