Church bids to take over Guildford theatre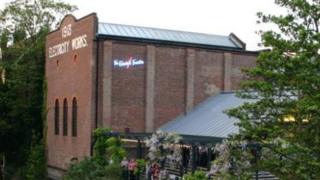 A church is offering to take over the running of a theatre after the local council said it wanted to cut costs.
Emmaus Road Church said it was confident it could run Guildford's Electric Theatre as a community hub.
Guildford Borough Council is planning to consult the public on how they want the theatre to be run in the future.
The council, which manages the venue, said it spent a significant amount on cultural services but had to make £5.5m savings over the next four years.
The 210-seat theatre opened in 1997 in the former electricity works in Onslow Street.
'Arts and drama'
It also has a cafe and holds events such as family festivals and quiz nights. Emmaus Road holds two Sunday services in the building.
"The arts and drama side of things is very important to the town but I think the council is looking for a more cost-effective way of taking it forward," said church trustee Ian Nicholson, who is also chaplain at Woking FC.
He said the offer was not just about the church but all the other groups who used the building.
"We are calling we calling it a community hub," he said. "There is quite a lot of professional expertise in the church but also in other relationships we can call on.
"We have looked at it and are confident we could really make it work."