'Racist' assaults in Guildford linked by police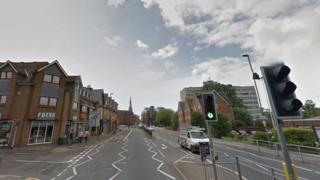 Police believe two separate assaults in Guildford may be linked and were racially motivated.
On Sunday a 19-year-old man was assaulted by three men when walking down Woodbridge Road at 02:50 GMT. He suffered facial injuries in the attack.
A short time later three different men were attacked on the same road, with one of the victims suffering a fractured eye socket.
Surrey Police have appealed for witnesses to contact them.