Film documents Woking Muslim burial ground restoration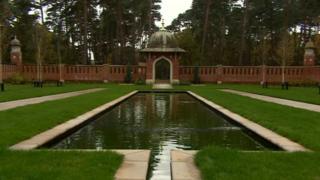 Three years of work to restore a Muslim burial ground in Surrey will be the focus of a BBC documentary on Sunday.
A team started tracking activities at the burial ground in Woking in 2012.
The film shows the efforts of Woking council and the Horsell Common Preservation Society to have the site restored and recognised as a symbol of "important and largely unknown" British history, producers said.
Dr Zafar Iqbal, from the council, said the work was a "long-awaited" ambition.
Forgotten history
He said the site fell into disrepair and there were two decades of discussions but it wasn't until 2012 that funding was secured and work could begin.
Aaqil Ahmed, the BBC's head of religion and ethics, said he first saw the burial ground three years ago and immediately felt it was a forgotten part of British history and a story worth telling.
The documentary includes stories of some of the soldiers once buried at the site, the Muslim contribution to the British war effort, and interviews with modern Muslims who believe the shared narrative can help to overcome prejudice and distrust of Islam.
Restoration saw the Grade II-listed site's domed archway entrance returned to its former glory, along with its minarets and ornate brick walls.
Twenty seven Muslim soldiers who died in both world wars were buried there.
The graves were later moved to Brookwood Military Cemetery, after which the site was deconsecrated and fell into disrepair.
Twenty seven Himalayan birch trees now symbolise the servicemen who died.
"Britain's Muslim Soldiers" will be broadcast on BBC One on 3 January at 13.15 GMT.