Memories of Surrey's 'lost' Deepdene estate sought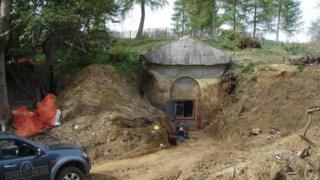 Memories of life on a 19th Century estate are being sought as part of a project to record its oral history.
The Deepdene Estate in Dorking, Surrey, which was owned by the banker, author and art collector Thomas Hope, is being restored to its former glory.
From next September, visitors will be able to walk round a seven mile Deepdene Trail, and view its centrepiece, the Hope mausoleum.
The Hope Springs Eternal project has received a £1m heritage lottery grant.
A bespoke virtual tour and app is being created to guide visitors along the trail.
Hope's neoclassical mansion was demolished in 1969, but the surrounding Italianate gardens are considered "unique in their picturesque style".
Mole Valley District Council has described Deepdene as one of southern England's "great lost landscapes" and a place of national importance.
Hope designed the mausoleum following the death of his youngest son in 1817, and the structure still contains members of the Hope family.
The mausoleum was sealed in 1957 and buried soon after, but work has been ongoing to restore it.
Earlier this month, people with memories of the estate gathered at Dorking Museum, with one arriving with a brass figure, which had been part of the fireplace in Deepdene House.
Councillor Vivienne Michael said: "This estate must hold many memories for local people and we would love to hear them.
"All of the memories and stories we collect will help us form a picture of the role that this great house and its gardens played in local peoples' lives."