NHS 'challenges' delay Surrey hospital merger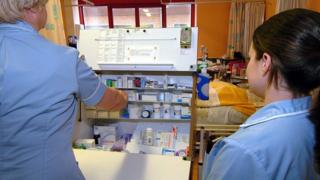 The planned merger of two hospital trusts in Surrey has been delayed until the New Year.
The Royal Surrey County Hospital in Guildford and Ashford and St Peter's said the move - planned for December - would save more than £10m a year.
In a statement the trusts said the delay had been prompted because the NHS had seen "considerable challenges" since the original plans were drafted.
A final decision is expected to be made in January.
The statement added: "Work is ongoing to refresh the full business case and long-term financial plans for the merger.
"Since these documents were first drafted, the NHS as a whole has experienced considerable operational and financial challenges, affecting both trusts.
"Due to this, the longer-term financial models and plans for the merger - which span the next five years - must be adjusted to ensure that the merged trust is sustainable and successful for our patients."
"Both organisations remain clear that the opportunity presented by the proposed merger is the best way to secure a strong and resilient future."