Poem inspires Guildford business park sculpture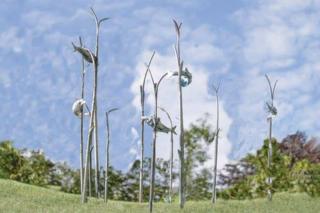 A sculpture inspired by a Walter de la Mare poem is to be erected to enhance a riverside "green corridor" alongside a retail and business park in Surrey.
Sculptor Charles Normandale has been commissioned to make the artwork for Woodbridge Meadows in Guildford.
Councillor Gordon Jackson said Silver Shoon, a design of fish and reeds, was inspired by the de la Mare poem Silver.
"Our aim is to have an exciting and original landmark piece of public art," he said.
'Improve the area'
Mr Jackson said the £70,000 cost of the sculpture was being paid by the companies that developed the area.
"It is a lot of money," he said. "It is designed to improve the Woodbridge Meadows area but you will be able to see the sculpture very well from the road."
The sculpture, expected to be in place by the summer of 2016, will be at the Ladymead end of Woodbridge Meadows.
Mr Jackson said the area alongside the River Wey was intended to become a "sustainable green corridor" for walkers.