Dunsfold Aerodrome housing plans put forward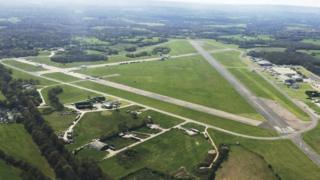 A plan for 1,800 new homes at Dunsfold Aerodrome has been submitted to Waverley Borough Council.
The proposal also includes new business space and community facilities. Housing plans for the brown field site were turned down in 2008.
Dunsfold Park said its vision was to develop a "new Surrey village" with a new school, health centre and country park as well as transport improvements.
About 700 people are already employed in a business park on the site.
Dunsfold Business Park which currently has over 100 businesses would expand under the plans.
A spokesman for Dunsfold Park said: "The proposals would provide homes for young families currently priced out of the area, direct development away from green fields, create new jobs and deliver a range of new community facilities and infrastructure improvements."
Plans for 2,600 new homes on the site were rejected by the council in 2008, with councillors saying the development was "in completely the wrong place".
They also said the housing was for workers on the site and "failed to meet the needs of local people who are unable to access or afford housing".
Waverley Borough Council is looking to provide almost 8,500 new homes by 2031 and is expected to approve its Local Plan for publication in April.