Farnham Bourne Mill to reopen 'in six weeks'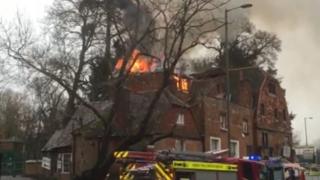 Owners of a 17th Century mill badly damaged by fire which ripped through its roof hope it will reopen as an antiques centre within weeks.
The blaze broke out at four-storey Bourne Mill in Farnham, Surrey about midday on Tuesday.
The mill houses about 70 dealers and many of the antiques displayed in its attic rooms were reduced to ashes.
Owner Dave Myers said dealers would continue to salvage remaining stock until the end of next week.
"We have got 33 rooms so it will take a while," he said.
"The plan is to empty the entire building, then it has got to be dried out and the smoke fumes got rid of, then it will be painted and re-carpeted.
"Scaffolding is going up on Tuesday, so we are not hanging about."
Mr Myers said he hoped three floors of the antiques centre would reopen in six weeks' time with the top floor having to wait until the roof had been fully repaired.
The building, in Guildford Road, was last used as a mill in 1906 and became an antiques and crafts centre 30 years ago.
Mr Myers said the building was fully insured and most of the antiques dealers were covered by their own policies.
He has received messages of support from former customers from as far afield as Antigua and Australia.
About 3,000 people had also offered help on Facebook and Bourne Mill's website.
Surrey Fire and Rescue Service expects to complete its investigation into the cause of the fire over the weekend.