Man quizzed over £1.5m Epsom haulage yard arson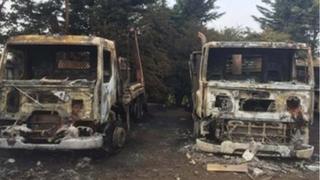 A man has been arrested on suspicion of arson following a fire which damaged 10 lorries at a haulage yard in Surrey.
Damage put at £1.5m was caused to vehicles at Penwarden Haulage, in College Road, Epsom, in the early hours of 3 October.
Owner Luke Penwarden said he did not know why the 25-year-old family-run business had been targeted.
Surrey Police said the arrested man had been released on bail until 10 December pending further inquiries.
Penwarden Haulage has offered a reward of up to £5,000 for information leading to the arrest and conviction of those responsible.
Nine of the vehicles damaged in the attack were left beyond repair.
CCTV images show two hooded men, believed to be aged between 20 and 30, breaking into the front of the haulage yard at about 03:32 BST.
The pair are seen trying to open the lorries before throwing bricks at the windows and an object that sets the vehicles alight.
They fled the scene at about 04:15 BST before firefighters arrived.