Guildford mental health hospital opens doors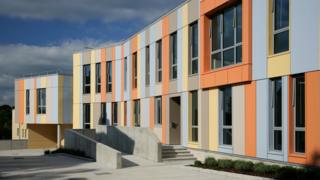 The first hospital built in Surrey in more than 90 years, which specialises in the treatment of patients with mental health issues, has opened.
Farnham Road Hospital, in Guildford, cost £30m and will be run by Surrey and Borders Partnership NHS Trust.
The unit has 60 acute psychiatric beds across four adult mental health wards.
The trust said the hospital represented a "new era" of mental health care provision with a greater focus on recovery and preventative measures.
It is the first large-scale, purpose built mental health building to be unveiled in Surrey since the official opening of West Park Hospital in Epsom in 1924.
The trust's governor, Tracey Hayes, said the hospital was in a "different league" to anything else she had seen.
She said: "It is a wonderfully light and airy building that offers very impressive facilities.
"I am sure it will improve people's outcomes and lead to shorter stays in hospital."