Guildford crash: Grandfather leaves hospital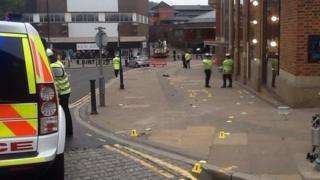 One of two grandparents who were seriously injured when a car mounted a pavement and hit a group of pedestrians has left hospital.
The couple were badly hurt in a crash outside The Friary Centre in Guildford on 23 October.
Their two-year-old grandson and one-year-old granddaughter were also treated in hospital.
Surrey Police said the man was released last week but the woman is expected to remain in hospital for up to a month.
A Volkswagen Polo being driven by a woman in her 80s hit the two young siblings as they sat in a children's push-along shopping trolley in front of the Friary Centre.
Their grandparents had been pushing them at the time of the incident.
Three women were also hurt in the crash.