British artist Jack McNiven shot in Le Carillon bar shooting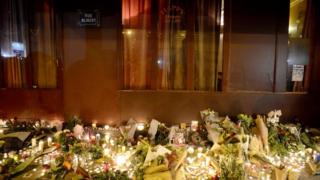 A British artist was shot in the shoulder during the Paris terror attacks that left at least 129 people dead.
Jack McNiven, of Guildford, Surrey, was ordering drinks at Le Carillon bar, where at least a dozen people were killed.
Mr McNiven, who lives in the city, rang his family from the ambulance as he was being taken to hospital.
His father Peter said: "We were very shocked and very concerned."
Mr McNiven, who moved to France and set up Draw Paris, which encourages tourists to discover the city through sketching its landmarks, was with a friend when the shooting broke out.
Both survived and are understood to be making a good recovery.
Mr McNiven's father said: "We had a call and discovered he was in an ambulance, and a paramedic was holding a phone to his lips.
"He said 'I am ok, but I have been hit by a bullet and I'm on my way to hospital. There are a lot who are a lot worse than I am'.
"The first reaction is just shock. This is real suddenly. Very shocked and very concerned and all sorts of things going through our heads.
Mr McNiven said that since Friday, his son has not been back in touch much.
"He finds it difficult to speak about the event and in fact, doesn't want to. I think it will take time for him to talk about what went on," he said.
"But we soon began to reflect on the people who perhaps weren't ok, and were sharing just awful news."
He said the family plans to visit their son in hospital on Tuesday.