Fire-damaged Ewell Court House reopens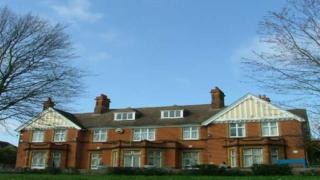 A Grade II-listed mansion used as a library and wedding venue has fully reopened two years after it was damaged by a fire which started in the roof.
Ewell Court House, in Ewell, Surrey has undergone extensive rebuilding and renovation since 50% of the roof was destroyed in December 2013.
Water used by firefighters also damaged ceilings, plasterwork and floors.
Community group Ewell Court House Organisation was hosting an open day for residents on Saturday afternoon.
Some areas of the building were untouched by the fire, which was started by a frost inhibitor, and the public library and children's nursery reopened within days.
The mansion, which dates from the late-1600s, was remodelled in 1879 when it first became known as Ewell Court House.
It was sold to the council in 1935 and is now run as a community facility.
"I love this building - not just its fabric, but because of its value to the local community," said councillor Jan Mason.
"It has been a community asset for a century.
"With the restoration now complete, I hope it will remain so for another 100 years."