Sherlock Holmes house: 'Work continues' despite judicial review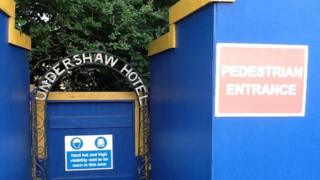 A charity converting the former home of Sir Arthur Conan Doyle into a school has said it will continue with the work despite a pending judicial review.
DFN Charitable Foundation is converting Undershaw, at Hindhead in Surrey, into new premises for nearby Stepping Stones school for children with disabilities.
But Undershaw Preservation Trust has been granted a judicial review of the planning consent decision.
DFN said its school plan had saved Undershaw and repair work would go on.
Undershaw, where Conan Doyle wrote The Hound of the Baskervilles, had been empty for years and fallen into disrepair.
DFN bought it last year and was given planning permission by Waverley Borough Council for alterations to the existing building, the addition of a new two-storey extension and the demolition of a 1930s hotel extension.
The charity said demolition was complete, foundations and retaining walls were in place, and a hydrotherapy pool was under construction along with the steel frame for the new extension and a new roof.
It said the decision to grant a judicial review in the High Court was very disappointing.
"The site is owned by the DFN Charitable Foundation and will not be sold," it said in a statement.
"We will continue to repair Undershaw and build our school.
"We trust that the court will throw out this ridiculous case."
Waverley council has said it is confident the decision to grant planning permission was lawful.
Historic England has welcomed the judicial review, which will be on a date yet to be set.
"Not only might it yet prevent the unnecessary despoiling of Sir Arthur Conan Doyle's house but it will also guide Waverley and other councils on the right way to deal with similar cases in the future.
"The judge said that this was a matter of clear public interest."