Sherlock Holmes house: Undershaw plans to be reviewed by High Court judge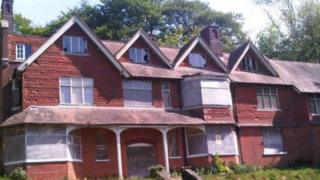 The decision to turn Sir Arthur Conan Doyle's former home into a school for children with disabilities will be reviewed by a judge.
Waverley Borough Council approved the plans in February, however, the Undershaw Preservation Trust has been successful in its application for a judicial review.
Undershaw was designed by Conan Doyle to help his ill wife Louise.
He wrote The Hound of the Baskervilles while living there.
Stepping Stones School, which is nearby, wants to use the property as an upper school.
Plans for the site include alterations to the existing building, the addition of a new two-storey extension and the demolition of a 1930s extension.
An attempt by English Heritage to have the planning decision called in by the government failed in March.
'Permission was lawful'
A spokeswoman for Waverly Council said: "We are disappointed that the judge has determined that the case is to be heard and a full hearing is to take place, despite the fact that the High Court previously supported the council decision to grant planning permission.
"We are confident that the correct policies and procedures were adhered to and the decision to grant planning permission was lawful.
"We hope that the hearing takes place sooner rather than later."
There is currently no date set for the hearing.