Guildford council rejects petition for elected mayor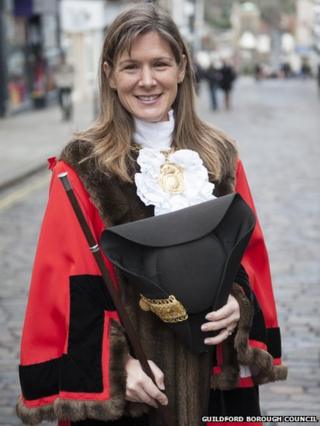 A petition calling for a referendum on a directly-elected mayor for Guildford has been rejected by the council.
The petition, submitted in May, needed 5,012 valid signatures to trigger a public vote. It gained 3,570.
The council said a number of signatures were disregarded as they did not meet the necessary criteria.
Petition organisers now have the opportunity to collect additional signatures and submit a new petition.
The role of a directly-elected mayor is different from the current ceremonial Mayor of Guildford as it would carry wide-ranging decision-making powers.
There are currently 17 elected mayors in England.
Unreadable
Following a successful "yes" vote in a local referendum, a directly-elected mayor would replace the council leader.
Councils can also change to the mayoral form of governance without a vote, provided the model they are changing from was not itself the result of a referendum.
A petition can trigger a vote if it is signed by 5% of the electorate in the borough, but all entries must comply with strict regulations.
In this case, only 3,570 were deemed compliant. Invalid entries may have missed details such as first name, surname or address, or the signature might have been unreadable.
However, existing entries will remain valid for 12 months from the date of signing, during which time petition organisers can collect further signatures and submit a new petition.
The petitions would then be amalgamated and the process restarted, the council said.