Thames Water criticised over bomb sign at Staines reservoir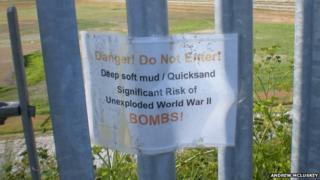 Thames Water has been accused of going "over the top" with a warning sign about unexploded bombs at a reservoir.
The company said it posted the sign at the Staines facility, which has been drained for maintenance, to deter children from entering the site.
But Reverend Andrew McCluskey said such a warning from a "responsible" company would obviously cause alarm.
Despite the sign claiming "significant risk" of bombs, Thames Water has now said the risk is only "slight".
The company told the BBC it has not had "any reports of devices found" and there was "no need for people to be concerned".
'Precaution'
During World War Two, reservoirs in Staines were used for military testing, including early experiments of the bouncing bomb later used on attacks on Germany and immortalised in the film Dambusters.
Thames Water said it is possible unexploded devices remain encased in the depths of the recently-drained reservoir.
It said there has always been "a slight risk" because of the age of the reservoir but the sign was written as a precaution to stop children trying to scale the fence.
Mr McCluskey said that if the intention was to scare children off, the company had gone "over the top".
He said he had not seen many children at the site but that it did attract birdwatchers.
"It is going to get us worried because there is this background of military testing," he said.
He believes Thames Water should have either said nothing or explained the risk further and said what they were going to do about it.
"Just to say there is a risk and leave it at that isn't enough. They have started the scare and they have got to see the thing through to the conclusion!"