Parents protest over Oxted School academy plans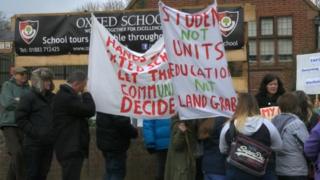 A protest has been held over plans to turn one of Surrey's largest secondary schools into an academy.
Parents at Oxted School claim there has not been enough consultation and have expressed fear that land could be sold.
A group of them earlier marched through the town waving banners saying "education not land grab" and calling for "the community to decide".
Governors at the school have said academy status would allow them to have more control and improve standards.
Parent Hazel Holt said the school was effectively just interested in the freehold and the land.
"Our prime concern is our children's education, but what we don't want is for them to be able to sell off parts of the school to developers," she said.
The governors of Oxted School have been working with the Howard Partnership Trust to make the change, which first involves the school becoming a foundation.
In a letter to East Surrey MP Sam Gyimah, who wrote to them asking for clarification of their plans, they said they believed that it was in the best interests of the school to achieve foundation status before becoming an academy.
"This will mean that ownership of the land and buildings will in future be held in trust by the governors/trustees on behalf of the Department for Education (DfE), rather than through a 125-year lease with Surrey County Council.
"This would be held solely for the benefit of students at Oxted School - it could not be used to benefit any other institution... and any changes would require prior approval of the DfE to ensure that this was the case," they said.
The governors added that they were prepared to extend the consultation for foundation status by a week to 11 February.
They said there would also be a further representation period if they proceeded with the academy proposal.
Meetings with parents are due to be held early next week, followed by ones with the wider community.