Reward offered over gin trap fox deaths in Surrey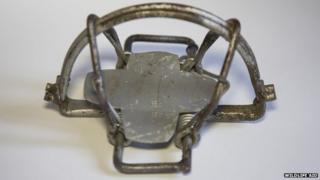 A reward has been offered after two foxes in Surrey were killed by illegal gin traps.
Two foxes were killed by the trap in Guildford.
The League Against Cruel Sports and the Wildlife Aid Foundation (WAF) have offered £1,000 for information leading to the conviction of the person responsible for setting the devices.
The foundation's chief executive Simon Cowell said they didn't know how many traps were in the area.
"If some very sadistic person has been going around putting out these traps around Guildford to try to kill foxes, it is anybody's guess how many of the devices are out there," he said.
The first fox was discovered on 19 December and the second fox on 7 January.
Joe Duckworth, chief executive of The League Against Cruel Sports, said gin traps were "incredibly archaic, indiscriminate and inherently cruel devices".
Gin traps were outlawed in the UK in 1958.