Ashford and St Peter's and Royal Surrey issue A&E warnings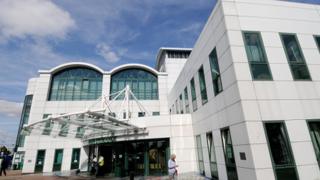 The majority of outpatient appointments have been cancelled at Ashford and St Peter's Hospitals as they struggle to cope with emergency patients.
The Surrey hospital trust said it was under "severe pressure" and had declared a major incident.
Royal Surrey County in Guildford also said it was under severe pressure. Both trusts said non-emergency patients would face an "extremely long wait".
The trusts asked people not to attend A&E unless there was a real emergency.
'Pressure on beds'
Ashford and St Peter's said it had cancelled a number of planned operations and would do the same on Tuesday.
A spokeswoman said: "We have declared a major incident but it is on a different level to a train crash or a plane crash.
"It just allows us a bit more freedom to manage the situation.
"We have cancelled some out patient appointments and that frees up some consultants to help on the wards.
"We have cancelled some non-urgent operations to free up beds. We are full, like many other hospitals up and down the country."
The Royal Surrey NHS foundation trust said non-emergency patients who attended A&E would be taking staff away from patients who needed emergency or life-saving care.