Heritage volunteer June Davey recognised in honours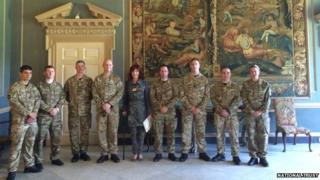 A woman who has worked as a National Trust volunteer in Surrey for more than a decade has been recognised in the New Year's Honours.
June Davey, of West Horsley, was awarded the British Empire Medal for services to heritage.
Having been employed at museums around the world for more than 30 years, she has volunteered at Clandon Park near Guildford since 2003.
"We are fortunate in this country to have many beautiful houses," she said.
Mrs Davey became a room steward at Clandon Park but was soon asked to start giving talks, which she has done in Hampshire, Surrey and London.
This year volunteers at Clandon Park were invited to help with researching the property's World War One history, when the house was used as a hospital with an operating theatre for all ranks of soldiers.
Mrs Davey said her passion for history began at a church Remembrance Day ceremony when she was five.
"I saw these people coming in. I heard Nimrod by Elgar. In my little mind I knew something very significant and important was happening.
"I went straight home to ask what was going on. My mother and father sat me down and talked about it. That was the first time I sensed the importance of history and the meaningfulness of it," she said.
She said it was impossible to describe what it meant to her to come into contact with the past.
"I feel I'm there. I feel I'm in the Middle Ages," she said.
"I just love it and I feel it's a great responsibility to communicate it in a way that is not boring."
Services to fashion
Others to be recognised in Surrey's New Year's Honours list include designer Mary Quant who lives in the county and has been made a Dame for services to British fashion.
A senior officer at the National Crime Agency Terry Pattinson has been appointed MBE for services to law enforcement in the field of kidnap and extortion.
Christine Mary Davenport has also been appointed MBE for services to the Girl Guides movement and the community in Ashford, Surrey.
And in Guildford, Professor of Nursing Care for Older People, Julienne Elizabeth Meyer has been made CBE.