Zane Gbangbola: Parents say 'more questions than answers'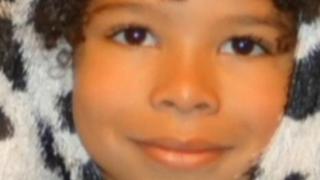 The parents of a boy who died during floods in Surrey have said the news there will be no criminal charges leaves "more questions than answers".
Zane Gbangbola, seven, from Chertsey, died in February of carbon monoxide poisoning.
As part of their investigation, Surrey Police seized a petrol-driven pump from inside the home address.
His father, Kye, said: "We are not looking for someone to blame... we are looking to understand what happened."
After inquiries in respect of the hire firm providing the pumping equipment, Sussex police said Crown Prosecution Service advice was there was no criminal case to answer.
'Burning questions'
Zane's parents believe he was killed by hydrogen cyanide released from floodwater in their home, which they say came from a former landfill site.
Mr Gbangbola, 48, a company director, was left paralysed by the same incident.
He said hydrogen cyanide had been found in the family's blood and had been identified in the house.
"We have very real concerns for the welfare of our neighbours and the wider public in flood affected areas and regions as well as burning questions which come when you lose a child inexplicably," he said.
An initial post-mortem examination proved inconclusive, but further tests by a pathologist gave the result of death as carbon monoxide intoxication.
An inquest into Zane's death will be held in due course.