Warlingham Home Guard defends village green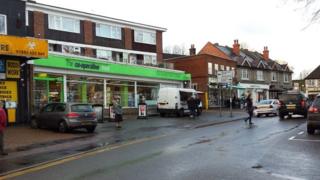 Residents and traders have formed a "home guard" to defend a Surrey village green from changes put forward by the parish council.
Architects engaged by Warlingham Parish Council have drawn up proposals to install a two-way traffic system round the green and remove 10-12 trees.
There would also be a "shared space" for vehicles and pedestrians.
Traders say the village is up in arms but the parish council said residents asked for improvements to be made.
'Absolute mayhem'
About 400 people attended a meeting in November called by Warlingham Home Guard to respond to the parish council's design for the green.
The new design includes closing the south side by the Co-op to through traffic to make a part-pedestrianised area and introducing two-way traffic round the rest of the green, which is currently one way.
"Everyone who lives and works here is horrified," said spokeswoman Louise Keith.
"They don't want the trees chopped down and they don't want the two-way traffic system.
"It's going to be absolute mayhem."
Parish council chairman David Cooley said its design was drawn up after the 7,000 households in the village were asked for their views in 2008.
He said people wanted the green to be a more useful space than the roundabout it had become.
"When we most want to use it, for example for the Christmas lights parade or Remembrance Sunday, it is a quagmire," said Mr Cooley.
He said the parish council was unlikely to agree any plan that removed more than about three trees.
"Whatever the parish council wanted to do would go to a public vote," he said.
"We will set up a working group and invite contributions from residents.
"Nothing definite has been decided. It's a work in progress."