Redhill rubbish stench returns to neighbourhood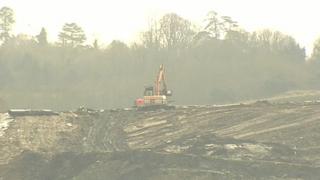 Residents living close to a landfill site in Surrey have complained that a smell like rotten eggs has returned.
Earlier this year there were more than 500 complaints about the stench from the tip in Cormongers Lane, Redhill.
The Environment Agency installed a 24-hour monitoring station to check for pollution and gas emissions.
It said it had now instructed the operator Biffa to investigate a small number of odour complaints received since the weekend.
But in a statement, it said the site performance had significantly improved over the last six months.
"We have put in a number of improvement measures and since then the amount of complaints has fallen dramatically," it said.
One resident of the Watercolour housing estate between Redhill and Nutfield said the smell had been very bad during the summer months, when the weather was hot, and had got worse again since Sunday.
'Unacceptable neighbour'
She told BBC Surrey that it made it impossible to have any windows open.
The Redhill landfill site, which accepts up to 700,000 tonnes of waste per year, takes non-hazardous household and commercial waste from Surrey, London, and the Home Counties.
Biffa said it continued to undertake routine works to improve gas collection and was continuing additional gas monitoring and off-site hydrogen sulphide monitoring.
"The off-site hydrogen sulphide monitoring results remain low and the on-site gas monitoring is showing continued improvement," it said.
It added that complaint numbers had decreased considerably over the past eight months.
However, the Conservative MP for Reigate and Banstead, Crispin Blunt, said if the complaints continued "they become an unacceptable neighbour and the Environment Agency is going to have to look at their licence".