Heritage groups criticise Conan Doyle house school plans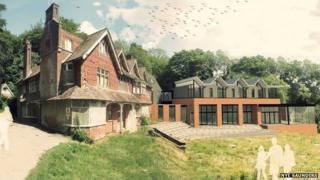 Heritage groups have raised concerns that Sir Arthur Conan Doyle's former Surrey home may lose its listed status if it is converted into a school.
English Heritage said a proposed extension at Undershaw, in Hindhead, might mean the building "no longer warranted its listed status".
Change of use permission to turn the home into a school for disabled children was granted in September.
Plans for the extension are yet to be approved by Waverley Borough Council.
Victorian Society conservation advisor, James Hughes, said he would prefer the Grade II listed building to be used as a "single family dwelling" with no extension built.
'Conflicting styles'
He said: "The large extension, combined with the alterations proposed to Undershaw's listed interior, would cause serious harm to the significance of the building.
"The proposed extension would obliterate the building's setting and would overpower its modest appearance with its conflicting style, materials and scale."
Built in 1896, the house was designed with caring for Conan Doyle's sick wife in mind.
He is known to have written several Sherlock Holmes stories while living there.
David Forbes-Nixon, from the DFN Foundation, which is behind the school plans, previously said: "It looks like a school, Conan Doyle's wife was disabled - these are disabled kids coming down - so it would be a perfect site.
"We can do something very special to preserve the existing house. We can create the best special needs school in the south of England and it would be a wonderful site to do that."