Surrey Olympic artwork displayed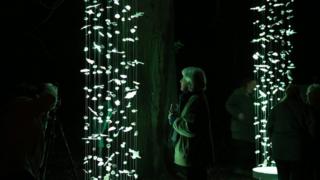 Parts of an art installation that was created for the Olympic torch relay in Surrey have gone on display in the grounds of Watts Gallery in Compton.
Artist Mary Branson has created a new installation at the gallery using components from the 2012 torch relay.
The gallery said the new work was "a magical wonderland of porcelain sculptures illuminated against the winter skies".
The installation, Supernature, can be seen until the end of February.
A spokeswoman for the gallery said people who saw the first Olympic installation in Stoke Park, Guildford, could now see it in a different setting and context.
Branson said the light columns were created out of pieces of chalk, hand-made porcelain leaves and insects cast out of resin.
She said she aimed to to create an "architectural, cathedral-like quality" with a soundscape that would bring a magical, joyful and sometimes frightening effect.