Deepcut soldier Cheryl James' family in body exhumation plea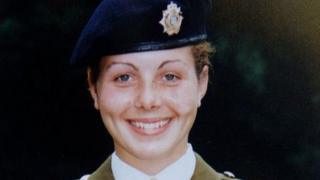 Lawyers for the family of a soldier who died at Deepcut Barracks have asked a judge to request her body's exhumation.
Judge Brian Barker, recorder of London, is conducting a new inquest over 18-year-old Pte Cheryl James's death in November 1995.
The judge told a pre-inquest meeting he wanted time to consider the request and a number of other submissions.
Pte James, from Denbighshire, was one of four recruits who died at the barracks amid bullying claims.
Judge Barker began the meeting by asking for "a few moments of reflection".
Surrey Police, which was criticised by families for their handling of the investigations into the deaths, agreed with counsel for Pte James's family that they would not undertake the usual role of providing assistance to the coroner in his investigation.
Judge Barker said he hoped to start the full hearing, which is expected to last two months, by Easter next year.
Legal charity Liberty said the judge should consider setting up a website to publicise the fresh inquiry in the hope of bringing it to the attention of those who might have evidence that had not yet come to light.
---
The Deepcut deaths
June 1995: Pte Sean Benton (far left), from Hastings, East Sussex, found dead with five bullet wounds to chest. Verdict: Suicide
November 1995: Pte Cheryl James (second left), from Llangollen, Denbighshire, found dead with single bullet wound to head. Open verdict
September 2001: Pte Geoff Gray (second right), from Seaham, County Durham, found dead with two gunshot wounds. Five shots were fired, three never found. Open verdict
March 2002: Pte James Collinson (far right), from Perth, found dead with single gunshot wound. Open verdict
---
Pte James, who grew up in Llangollen, died from a single bullet wound. Her parents believe she had suffered sexual harassment and bullying.
She was undergoing initial training at Deepcut when she was found dead.
Her parents Des and Doreen James, who live in Llanymynech, Powys, applied through human rights campaign group Liberty for a new inquest after the Human Rights Act was used to secure access to documents held by the authorities about the teenager's death.
Another recruit, Pte Sean Benton, 20, from Hastings, East Sussex, was found dead with bullet wounds at the barracks in June 1995, months before Pte James's death.
In September 2001, 17-year-old Pte Geoff Gray, from Seaham, Co Durham, was found with two bullet wounds to his head, and six months later, Pte James Collinson, from Perth, also 17, was found with a single bullet wound upwards through his chin.